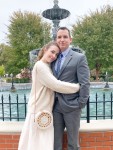 Robin Wallace was recommend to us by a coworker of my wife. And we are extremely happy that she was. This was our first time buying a home and Robin was very helpful in explaining every bit of the process. She also is very knowledgeable about the market and able to point out potential problems that a house might have. Even when Robin had to take trips out of state she still responded in a timely fashion to any questions we had. We really felt that Robin had our best interest in mind when it came to finding the house we would live in. It was very comforting to have someone that was watching our back through the whole process. I preach for a small church here in Ronan and we will soon be in search for a building for us to meet. Best belief we will be calling Robin to help us in our search!
Robin did an amazing job helping us find a home we love. She kept in close communication with us and helped with any questions we had along the way as first time home buyers. I would highly recommend Robin as we loved having her as our realtor!
We we working with Robin from out of state, so communication was very important. Initially, she spent time with us on the phone searching for properties to build a house. When planning our trip to see properties, she researched them and had a plan laid out for our visit. The visit turned out to be fruitful, and because of her planning, we found our property the first day.
Robin thoroughly knows the areas we were looking at, and steered us ultimately to the area in which the property was located that we ended up purchasing. She has a thorough knowledge of the real estate market, including land, and helped us by navigating through contractual documents as well as supplying local contacts to proceed with the build process.
We would highly recommend Robin, and appreciate all she did to assist us with our purchase.